Are you ready to explore the Haarlem Area with a local?  Come and join!
Do you like to immerse yourself in the rich history and natural beauty of the Netherlands? Hello Haarlem organizes a bike tour to the Ruins of Brederode Castle, nestled in the picturesque region near Haarlem.
With its rich historical significance and breathtaking beauty, this hidden gem beckons expats and travellers alike to step back in time and explore the beauty of the Haarlem area.
A Glimpse Into The Past
Brederode castle, also known as Ruïne van Bredeode in Dutch, carries the echoes of medieval times. Located in Santpoort-Zuid, just a short distance from Haarlem, it stands as a majestic ruin, offering visitors a captivating glimpse into centuries-old architecture.
The castle dates back to the 13th century.
The Tour
We will gather at 10:30 a.m. in front of Albert Heijn in Overveen, and start cycling at 10:45 a.m. through the lovely Bloemendaal village towards the ruins of Brederode. Upon arrival you can take in the view of the castle and take the first photos.
At 11:30 a.m.,our personal guide Dimitri Arpad will take us on a journey back in time. After this English spoken guided tour, and the many pictures you have taken, we will continue our tour.
We will cycle back to the starting point in Overveen, through a beautiful off the beaten path. During this part of the tour we will stop at Het Wed, near the visitor centre of National Park Zuid-Kennmerland. Here we will enjoy small bites offered by GrazeHaarlem.
Good To Know
This tour will lead you to beautiful spots and hidden gems in the area within cycling distance of Haarlem.
The highlight of this tour is a guided tour, in English, of the ruins of Brederode Castle.
The tour inside the ruins is not recommended for children under 12. However, children are allowed to explore the ground floor and enjoy the garden under parental supervision. Please be aware that parental supervision is required at all times. Parents are solely responsible for the safety and well-being of their children.
The ruins have limited accessibility for people with  mobility issues.
The tour will proceed with a minimum of 5 participants.
The maximum number of participants is 15.
Cycling experience is a requirement.
Costs of the tour are 25 Euro. Entrance fee, guided bike tour,  and guided tour in English by our personal guide on the site are included plus some refreshments.
Families with children  will get a 25% dsicount on the total price.
Hello Haarlem will offer free tea or coffee to the first 5 booked adults.
Participation in this tour is at your own risk.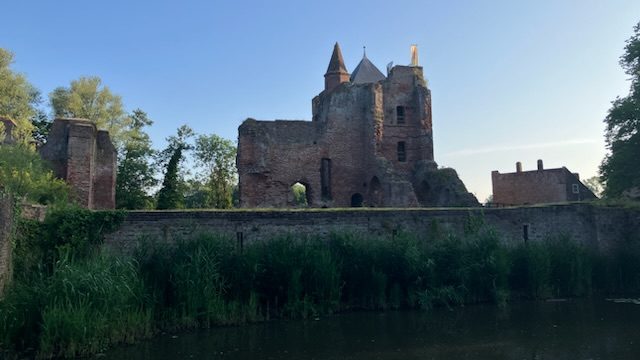 Book Now!
Are you ready to explore the beautiful Haarlem Area?
Book your spot by filling in the form.
After submitting your form, you will receive a Tikkie sent by Hello Haarlem. Your booking will be confirmed by e-mail after payment.
Ticket price is 25 Eur per person. Please pass your ticket on to someone else if you can't join after all. There will be no refund.
Families with children 12 – 16 years will get a 25% dsicount on the total price.
Hello Haarlem will offer free tea or coffee to the first 5 booked adults.
*Not possible to pay via Tikkie? Please contact us by e-mail elsa@hellohaarlem.com.
We will not reuse your personal details unless you have approved it.
Yes, I Like To Explore The Haarlem Area!
Renting A Bike
If you need of a bike to join the tour, you can rent a bike near Haarlem Central Station. From one of the mentioned bike rental companies, it will be an approximately 8 minutes bike ride to the start
Two Recommended Bike Rental Companies
Rent A Bike
Lange Herenstraat 36
2011 LJ Haarlem
Opening hourson July 16th 9 am – 6 pm
Green Bikes
Kruisweg 30
2011 LC Haarlem
9:30 am – 6 pm
www.greenbikes.nl